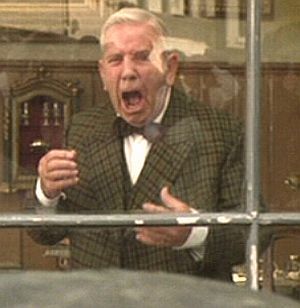 Norman Wisdom (1915-2010) is an English comedian known for his work in early British television comedy, and as the star of a series of low-budget film comedies in the 1950s and 1960s, perfecting the character of the clumsy but well-meaning "gump." Often cast opposite Edward Chapman as long-sufferring foil Mr. Grimsdale, Wisdom's films include The Square Peg, The Early Bird, On The Beat, and The Bulldog Breed, all as a character named Norman. Other film credits include his turn as Sam Marlowe in an adaptation of P.G. Wodehouse's The Girl on the Boat and as a comedian in the American film The Night They Raided Minsky's.
In later years, Wisdom semi-retired to the Isle of Man, still making occasional TV appearances. He made a cameo appearance in the 2004 Jim Henson Pictures movie Five Children and It, which was largely filmed on the Isle of Man. Wisdom appeared briefly and wordlessly as Nesbit, an antique dealer whose shop is spared from a rolling boulder, but who loses a Ming vase in the process.
Wisdom also appeared with The Muppets on the Royal Variety Performance in 1988.
External links