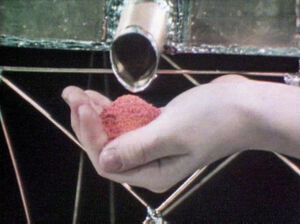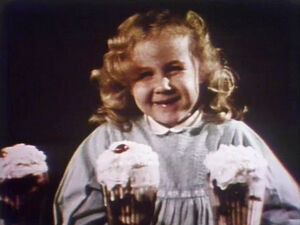 The Number Three Ball Film is a Sesame Street film from 1970 with an electronic, carnival-like soundtrack that follows a small, red ball as it rolls throughout a toy roller coaster. The ball makes its way throughout a number of mechanical devices that help to propel it through the track, occasionally going past three items as an off-screen child voiceover (Brian Henson)[1] counts to 3. When it reaches the end, it drops into a metal box.
Versions
Originally, the film ended with the ball being ground up into a fine powder. However, kids found this scenario too tragic,[2] and a replacement was shot on August 2, 1974.[3] In the new ending, once the ball falls into the box, it turns into three cherries that are plopped down onto sundaes rolling by on a conveyor belt, one of which is eaten by a little girl (played by Heather Henson). This version also features a different voiceover and first aired in Episode 0744.
Although the ending was changed due to test audiences finding the film too tragic, the original continued to air interchangeably with the new ending. On at least one occasion, Episode 0797, both versions of the film were included in the same episode. The original powder version was used on the show as late as Episode 4002.
Production
Frank Oz recalls the production of the film in an interview with Kenneth Plume for IGN FilmForce:
In addition to directing and building the wire sculpture, Oz sequenced the film by drawing on note cards. Jim Henson produced the film and also drew on some of the cards.[5]
Title
The film's title varies from several sources:
Releases
Video
Other
Numbers - A clip of the ball going through three doors
Sources