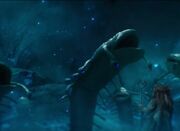 The Nurlocs
were
four-eyed creatures who lived in the Caves of Grot during the late Age of Division. Nurloc rump and roast is widely used to make clothes and accessories. According to Deet in Episode 7, her dress is made of Nurloc rump. They were affected by the Darkening and killed the Sanctuary Tree, who transferred his powers to Deet.
Lath'N and Mitjan's work was to feed nurlocs, and Deet helped them sometimes.
Community content is available under
CC-BY-SA
unless otherwise noted.