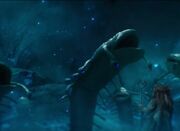 Nurlocs
were colossal multi-eyed invertebrates native to the caves of Grot. They were tended by the
Grottan Clan
for their skins, in particular that of their rumps, which produced the softest leather. They primarily fed on Glow Moss and were prey to Z'nid Birds.
They were affected by the Darkening and killed the Sanctuary Tree, who transfered his powers to Deet.
Lath'N and Mitjan's work was to feed nurlocs, along with Deet.
Community content is available under
CC-BY-SA
unless otherwise noted.