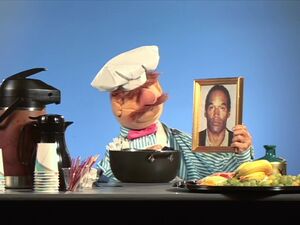 O. J. Simpson (b. 1947) is a retired American football player who achieved stardom at the collegiate and professional levels. He later worked as an actor, spokesperson and broadcaster. He is considered by some to be one of the greatest running backs of all-time.
Simpson is infamous for having been tried for the murder of ex-wife Nicole Brown Simpson and her friend Ronald Goldman in 1994. He was acquitted in criminal court in 1995 after a lengthy, highly publicized trial (often called the "Trial of the Century").
References
Simpson was referenced (and shown via a stock photo of his police mug shot) in episode 4 of the 2005 Muppet web series Statler & Waldorf: From the Balcony. The Swedish Chef makes a pair of Daisy Duke jeans to promote the big screen film The Dukes of Hazzard - the ingredients include a pair of cut jeans, a bouquet of daisies, a splash of moonshine, some cream and handful of sugar packets. While looking for some "Simpson" to add to the mix, the chef pulls out a framed photo of O. J. Simpson. After examining it he exclaims "dis es not de Simpson!" and quickly tosses it aside.
Community content is available under
CC-BY-SA
unless otherwise noted.