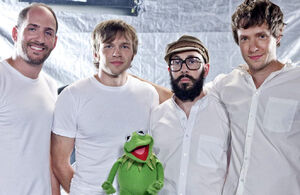 OK Go is a rock band from Chicago, Illinois. The band is best known for the song "Here It Goes Again," which won a Grammy Award in 2007 for the band's treadmill dancing music video. The band is composed of Damian Kulash (lead vocals and guitar), Tim Nordwind (bass guitar and vocals), Dan Konopka (drums and percussion) and Andy Ross (guitar, keyboards and vocals).
Kermit the Frog appeared with lead singer Damian Kulash in a video uploaded to OK Go's YouTube channel. Recorded backstage at The Jay Leno Show during the Muppets' appearance with Andrea Bocelli in 2009, Kulash and Kermit discuss the band's appearance on The Green Album, where they cover "The Muppet Show Theme". The song was later made into a music video with the Muppets directed by Kirk Thatcher.
The band also appeared with Floyd Pepper and Animal on the red carpet for the 2010 Webby Awards. On June 22, 2010, they released backstage footage of the event on their YouTube channel in which Animal and the band's drummer Dan Konopka face off in a staring contest. Zach Galifianakis can be seen in the audience.
The band recorded and filmed the song "Three Primary Colors" for Season 42 of Sesame Street.
OK Go appeared as the wedding band during the end credits of I Love You, Man (alongside stars Paul Rudd and Jason Segel). They have been nominated for multiple MTV Video Music Awards, and appeared on the soundtrack for New Moon.
Videos
External links