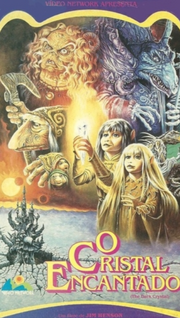 O Cristal Encantado is the Brazillian dub of The Dark Crystal. It premiered on February 18, 1983.
Rating
In Brazil, the rating system is very different than in the United States. Ratings are divided into "Livre para todos os públicos" (for all ages), 10, 12, 14, 16 and 18 years. 
In 1983, it was rated 10, because the movie has moments of anguish, fear, and mild violence. But on
Netflix
, the movie was rated for all ages (Livre para todos os públicos).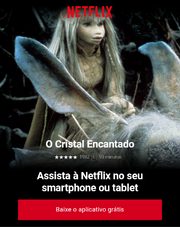 Voices
DVD dub
Netflix dub
Fábio Lucindo as Jen
Jussara Marques as Kira
Sidney Lilla
Carlos Silveira
Patrícia Scalvi as Aughra
Guilherme Lopes as the General
Supporting Voices
Dado Monteiro, Fábio Vilalonga, Gileno Santoro, Guilherme Lopes, Marcelo Pissardini, Hélio Vaccari, Patrícia Scalvi, Rodrigo Araújo, Sérgio Marques, Silvio Giraldi, Tatu (Ivo Roberto), Wendel Bezerra
Credits
Netflix dub
Recording studio: Dublavideo
Translator: Rachel Gardim Vieira
Director: Leonardo Camillo
Notes
The title translates to "The Enchanted Crystal" in English.
The film was not very successful in Brazil because it was released during the dictatorship, which came to an end two years later. But when the movie aired on TV Globo in 1994, it was much more successful.
When it was released on Netflix on August 10, 2019, the audio with the original 1983 dubbing was lost. Netflix hired other voice actors to dub the movie.
See also
Community content is available under
CC-BY-SA
unless otherwise noted.