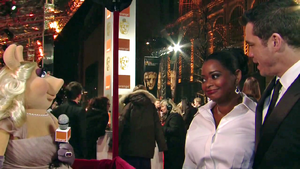 Octavia Spencer is an American actress best known for her role in The Help. For the role, she received a Golden Globe Award, a BAFTA, a Screen Actors Guild Award, and an Academy Award for Best Supporting Actress.
At the 2012 BAFTA Awards, Spencer and director Tate Taylor talked with Miss Piggy for the latter's Orange Film red carpet show. Piggy told Spencer she was "splendid as Ringo [Starr]" in The Help, referring to The Beatles' song "Help!" Going along with the joke, Spencer corrected the pig, saying that she was actually "going more towards John [Lennon]," and felt as though she must've failed miserably.
Previous roles include a recurring role on Ugly Betty, and guest spots on NYPD Blue, ER, CSI: Crime Scene Investigation, The Big Bang Theory, and films including Spider-Man.
Community content is available under
CC-BY-SA
unless otherwise noted.