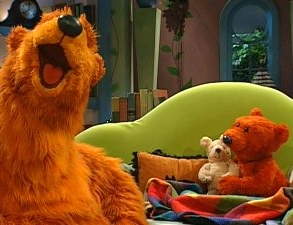 Ojo is a bear cub with a strong imagination. Ojo is curious and inquisitive and makes up lots of fun games. Overall, she's a good planner. She can be described as driven -- Bear has said that "once Ojo sets her mind to something, there's no stopping her." She can also be a bit shy at times, though. She also has her own room in the Big Blue House (seen in Episode 401: Welcome to Woodland Valley and Episode 418: To Clean or Not to Clean). In the fourth season of Bear in the Big Blue House, she starts exploring more of Woodland Valley on her bike. At first, she rides with training wheels. After an early failed attempt at taking them off, she tries again and is able to ride without them. A change of her appearance in the fourth season (or, like Bear's pointy eyes, occasionally seen) is a more spherical nose rather than a flat one.
Like Bear, one of Ojo's favorite foods is honey. Besides the kids in the Big Blue House, Ojo also has a rabbit-friend named Christine who sometimes comes over to play. Ojo has a beloved stuffed bear named Snowbear.
Ojo enjoys being in charge. She creates an orchestra in "Music to My Ears" and later hosts "The Ojolympics."
Ojo has an episode all about her titled "You Go, Ojo!" It also features a song by the same name. Ojo's imagination sometimes causes her to imagine monsters, but Bear helps her to get to sleep in the song "Go to Bed, Sleepy Head."
Notable Episodes
Community content is available under
CC-BY-SA
unless otherwise noted.