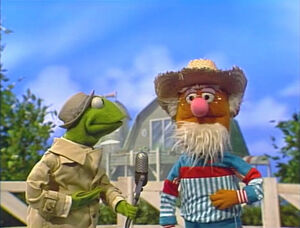 The classic narrative ballad of farmer Old MacDonald and his innumerable livestock has been performed many times on Sesame Street and has appeared on several albums.
Occasionally, a Sesame Street performance of the song can include animals that aren't considered typical farm animals. Episode 3750 has Big Bird helping a turtle who wants to find his own animal sound, so he can be added to the song.
In the Monster Clubhouse segments, after the monsters sing their welcome song, they spell out the name of their club to the tune of the song: "M-O-N-S-T-E-R, C-L-U-B-House!"
The tune-in segments for Episode 4523 feature Murray Monster singing the song as "Old MacMurray Had A Farm," which included some traditional farm animals, as well as a lobster, an octopus, and a wedge of cheese (who, in lieu of a sound, says "wubba wubba").
The song was also performed in the Sesame Street Live show, Super Grover! Ready for Action.
Baby Piggy briefly sings the song in the Muppet Babies reboot episode "Don't Over Duet."
Audio releases
Video releases