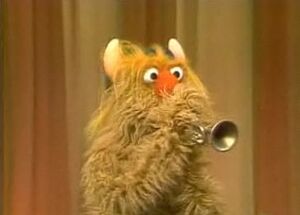 Old McDougal was a tan monster that appeared in the early 1980s on Sesame Street, and was on the show as late as 1986. He can be identified by his long tan hair, large yellow horns, and a fat red nose (though sometimes his hair and horns are removed). He could sometimes be seen wearing a tam o'shanter.
He was identified by name in the song "Google Bugle", where he played the trumpet as Cookie Monster sang; in another sketch, he and his friends trampled Kermit the Frog, who tried to explain the concept of "IN". He also appears as a caller to Big Bird's reading hotline in the 1986 video Getting Ready to Read, and in a background cameo in the 1987 special A Muppet Family Christmas.
He has been performed by Richard Hunt and Martin P. Robinson.
See also