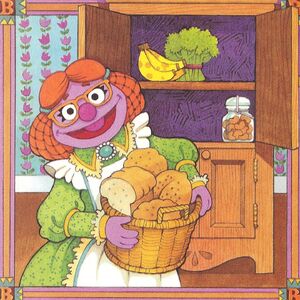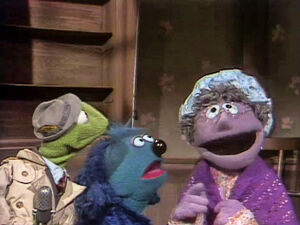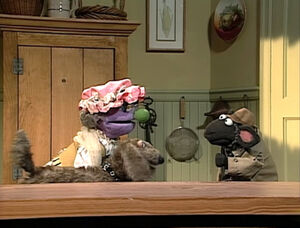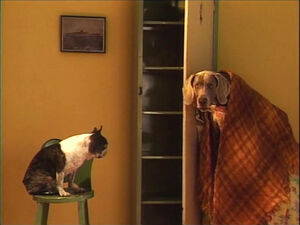 "Old Mother Hubbard" is an English nursery rhyme, first printed in 1805. Although it was one of the most popular publications of the nineteenth century, little is known about its origins.
Adaptations
References
Old Mother Hubbard appeared in a 1970s "Sesame Street News Flash" where she was played by Jerry Nelson. Instead of getting a bone, she brings her dog, Lamont, items that rhyme with "bone." This includes a heavy stone and a throne, both of which drop from her hands and fall through the floor of her cottage. Reporter Kermit informs her of her mistakes, but she still doesn't catch on and brings Lamont a telephone. She even suggests a tone. In the end, Lamont uses the phone to order take-out from a Chinese restaurant.
In a later Sesame Street appearance, Old Mother Hubbard (performed here by Louise Gold) is visited by Colambo to investigate a missing bone for her dog, Bootsie.
In a 1993 episode of Sesame Street, Maria explains to Telly that radio is not the same as television because it has no picture. The two aren't much different to the blind girl, who can't see, but can only hear. Maria and Telly Monster tune in to WUFF to listen to today's broadcast of "Puppy Dog Tales," which features the story of Old Mother Hubbard. As Terry Terrier narrates, Telly uses his imagination to picture the story, and soon becomes hungry for a box of Fido's Favorites (the program's sponsor).