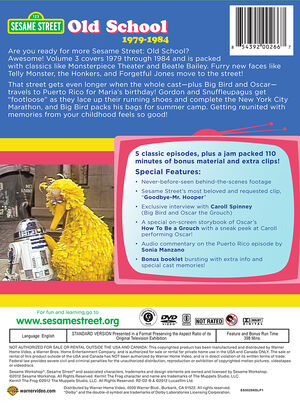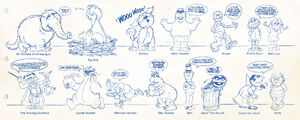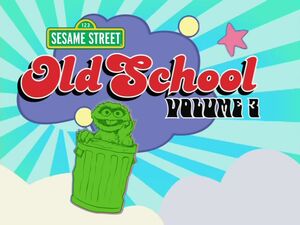 Old School: Volume 3 is a Sesame Street DVD released on November 6, 2012. Following two previous volumes which included the season premieres from seasons one to ten (1969 to 1979), this box set includes the season premieres from seasons eleven through fifteen (1979 to 1984). Bonus features include "classic cuts" from the 1979 to 1984 seasons plus behind-the-scenes footage.
Description
DVD Features
Disc 1
Disc 2
Season 14 Classic Cuts:
Season 15 Classic Cuts:
Behind-the-Scenes:

Behind the Scenes: "Birdwatchers"
Filming of "The Singing Waiter"
Filming of "Exercise with Grover"

"Goodbye, Mr. Hooper" excerpts
Exclusive interview with Caroll Spinney
On-screen storybook of How to Be a Grouch
28-Page Booklet
Easter egg: Time-lapse video of Louis Henry Mitchell drawing a full-color mural drawing of Big Bird (highlight "Filming of 'Exercise with Grover'" and then press up until an outline of Big Bird appears)
Edits
All the episodes are presented without the Sesame Street opening and closing credits.
Notes
"Henson Ball #3," which is listed here as being from season 15, actually debuted in season 2 (and the segment itself appeared on the previous volume as a "season 6 classic cut", featuring the re-filmed ending made during the season).
The booklet mentions that Polly Darton debuted in season 13, even though one segment featuring Polly is included under "season 12 classic cuts".
A portion of the behind-the-scenes footage from Episode 1576 (the rollerskating scene) previously appeared on 40 Years of Sunny Days.
The Cookie Monster and Kermit segment is listed as being from season 12, but it actually debuted in a season 11 episode.
The "Happy / Sad" segment from Episode 1706 has applause added.
External Links