Old Spice is a brand of male grooming products.
Sesame Street's Grover parodied a successful series of humorous Old Spice commercials featuring Isaiah Mustafa in 2010, teaching the word "on." The Smell Like A Monster video was posted on YouTube on October 7 and linked to from the character's personal Facebook page. The video quickly became a viral hit, getting 5 million views in the first two weeks.
Sesame head writer Joey Mazzarino explained the genesis of the video to New York Magazine: "The Grover/Old Spice bit is a pretty funny story. J Milligan, who works in our interactive department, came into my office to pitch me "Abby's Flying Fairy School," and he said, 'Can I just show you something?' And he threw me a script that was a parody of the Old Spice ad, and I said, 'Jay, this is great. How do we shoot this?' It wasn't really right for the show, but if we got it online, I said that people would love it.
"So I started calling around and interactive scraped together some money somehow with the help of PR, and they shot it and put it up and that was maybe three weeks altogether. That was way different than anything we've ever done... I said that maybe it could be a promo. First it was about 'on' and 'is,' and I said, "If you tag it at the end with 'Catch Sesame Street, only on PBS,' maybe we can get PR to fund it." And that's what happened, it became a thing to try to drive people to the show."[1]
Puppeteers included Eric Jacobson as Grover (Jacobson watched Mustafa's video very closely to match it), Stephanie D'Abruzzo as the cow and Paul McGinnis as the clam.[2]
Other references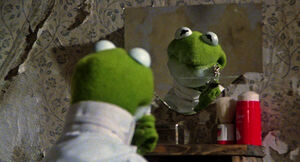 External links
ToughPigs.com - Interview with Vice President of Digital and Interactive Media, Miles Ludwig
Sources
↑ Buchanan, Kyle. "Sesame Street's Head Writer Explains the Show's Viral-Video Dominance", NYMag.com. October 21, 2010.
↑ Action Weekly - Star of the Week: Puppeteering Volleyball Player Paul
Community content is available under
CC-BY-SA
unless otherwise noted.