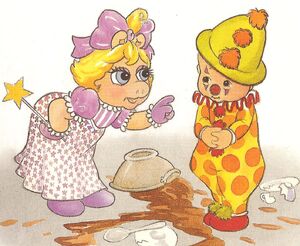 Oliver is one of Baby Piggy's dolls. The floppy stuffed clown is featured in the 1987 Muppet Babies storybook Baby Piggy's Night at the Ball.
Baby Piggy imagines getting ready for a costume ball with her dolls Esmerelda, Giselle and Oliver. Piggy decides to go as a Fairy Godmother, Esmerelda as a cowgirl and Giselle as a ballerina, but Oliver decides to go as a clown, since that is what he always is. The other dolls object, but Piggy disagrees and lets the clown escort the three to the ball.
Once there the stuffed clown begins to cause problems. He swings from a crystal chandelier and knocks down a crowd of tin soldiers. He tries to balance a bowl of chocolate ice cream on his nose, and spills it all over Esmerelda and Giselle's costumes. The final straw for everyone was when he practiced his somersaults, and back flipped into the orchestra.
When Piggy orders him to go home, the clown begins crying and Baby Piggy realizes that he is her friend, and that is the only thing that should matter, and she lets him stay at the ball.
See also