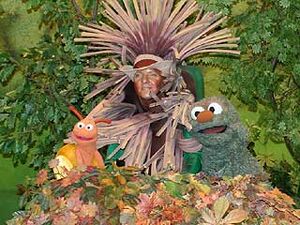 Olli Ditrich is a German actor, comedian, and TV personality.
Dittrich guest starred on Sesamstrasse in episode 2350, as Rumpel's brush Karl-Heinz, coming to life. In 2014 he appeared with Elmo on Sesamstrasse, impersonating Elmo, Cookie Monster and Bert.
The actor rose to fame in the German Saturday Night Live copy RTL Samstag Nacht, starred in the comedy series Dittsche - Das wirklich wahre Leben, played a dramatic role in the TV movie Stauffenberg (as Hitler's propaganda minister Joseph Goebbels), and appeared in the spoof Der Wixxer.