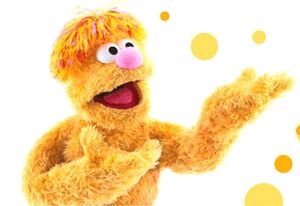 Ollie was a four-year old Australian Muppet, created by Sesame Workshop and Nickelodeon in partnership for the Australian version of toddler pay TV channel Nick Jr. Debuting in 2004, Ollie regularly appeared in the 35 brief Play Along with Ollie segments. The segments, filmed in January 2004, featured Ollie singing songs or interacting with small children, between scheduled programming on the channel.
The only other Muppet-related programming on Nick Jr Australia to date has been Open Sesame.
Ollie appeared "extensively" in Foxtel promotional spots.
The character was named through a contest.[1] One of the other finalist names was Murphy.[2]
See also
Sources
↑ Post by Nicholas Moreau, "REAL-LIFE CONTEST: Name a Muppet", Yahoo Groups, October 28, 2003.
↑ Post by beaubeaver [Nicholas Moreau], "Re: REAL-LIFE CONTEST: Name a Muppet", Yahoo Groups, November 12, 2003.
External links
Community content is available under
CC-BY-SA
unless otherwise noted.