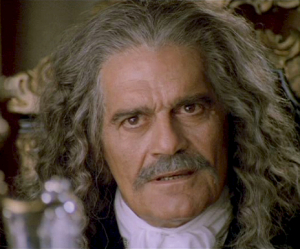 Omar Sharif (1932-2015) was an Egyptian-born actor who gained international fame in two of director David Lean's 1960s epics, Lawrence of Arabia (as Ali, netting an Academy Award nomination for Best Supporting Actor) and Dr. Zhivago (in the title role).
Subsequent works included Nick Arnstein in Funny Girl and the sequel Funny Lady, cameos in The Pink Panther Strikes Again and Top Secret!, and a range of international television series and movies. In the latter category, he appeared as the Sorcerer in the Jim Henson's Creature Shop production of Gulliver's Travels.
References
A renowned expert on the game of bridge, as author of several books and a syndicated bridge column, Sharif was referenced in the Dinosaurs episode "Into the Woods," in which the Blarney video library includes Blarney and Omar Sharif Teach You Contract Bridge.
External links
Community content is available under
CC-BY-SA
unless otherwise noted.