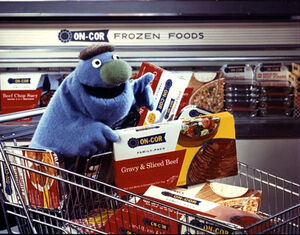 Muppets, Inc. produced three television advertisements for On-Cor Frozen Foods in 1962.
The ads featured Onky (a puppet who would go on to become Mack in later ads), with a human grocer played by Bill Gibson. Onky would ride in a shopping cart full of On-Cor Frozen Food products and stop, and say to the viewers "On-Cor! You'll want more! On-Cor Frozen Foods!".
Chicago advertising executive Bill Wright hired Henson to produce the ads. Wright also worked with Henson in representing Kraml Dairy.
External links
Community content is available under
CC-BY-SA
unless otherwise noted.