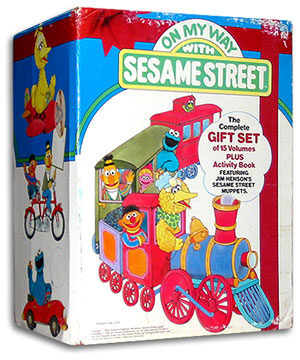 The On My Way with Sesame Street series was released in 15 volumes in 1989. Following in the footsteps of the 1978 series The Sesame Street Library and the 1983 series The Sesame Street Treasury, "On My Way" featured a collection of stories by various artists and authors of Sesame Street books, some of which were reprints of previous material, others of which were original to the series.
Unlike the previous two series, these volumes did not follow the featured letters and numbers. Focusing less on ABCs and 123s and more on daily life and growing, themes such as families, outdoors, occupations and seasons of the year were incorporated into the format. In addition, each volume was prefaced with a parents' guide by the editors.
For a full list of all 15 volumes, see the On My Way with Sesame Street category.
Community content is available under
CC-BY-SA
unless otherwise noted.