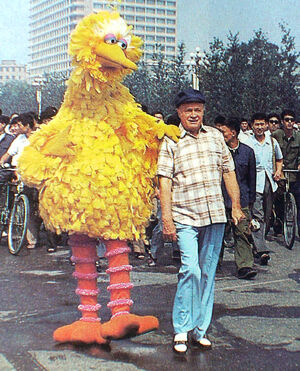 On the Road to China, a three-hour variety special, was broadcast over NBC on September 15, 1979, starring Bob Hope. Filmed on location in China, the special featured many big-name stars, including Shields and Yarnell, Crystal Gayle, and Big Bird. Other performers on the tour include vocalists Peaches and Herb, and dancer and choreographer Mikhail Baryshnikov.
In Big Bird's sketch, Hope comes across the giant fowl in a panda cage. Big Bird also features in a sketch where he hides from some chefs.
Big Bird later accompanies Hope to meet a Chinese basketball star, whom Big Bird greets with a "Hey, shorty!" He then introduces the Chinese Railroad Chore Tumblers.
Later, Big Bird attends a puppet show and leads the crowd of Chinese children in an a capella version of "Sing After Me."
According to The Wisdom of Big Bird, this was the first Western special made in China.
Community content is available under
CC-BY-SA
unless otherwise noted.