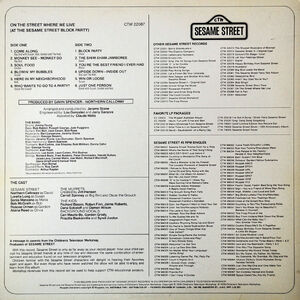 On the Street Where We Live - Block Party! is notable for being co-produced by Sesame Street cast member Northern Calloway. Unusual for a Sesame album, it focuses almost entirely on the human cast. Big Bird and Oscar the Grouch are the only Muppets who appear, and only on three tracks.
Track listing
Side One
Come Along - Big Bird and the Cast
by Gavin Spencer and Northern Calloway
Monkey See, Monkey Do - Big Bird, with Bob and Maria
by Gavin Spencer and Northern Calloway
Blowin' My Bubbles - Susan
Fechtor
Here In My Neighborhood - Bob
by Alan Menken
Side Two
Production credits
Produced by:

Gavin Spencer and Northern Calloway

Arranged and Conducted by:
Engineered by:

Lou Gonzalez and Jerry Garszva

Assisted by:

Claude Watts
The Band
Drums:

Jimmy Young

Bass:

Bob Babbitt, Russell George, Jule Ruggiero

Guitars:

Vini Bell, Jack Cavari, Bob Rose

Keyboards:

Ben Lanzarone, Jeremy Stone

Percussion:
Kazoos:

Jeremy Stone, Lou Gonzalez, Gavin Spencer

Bass Harmonica

Gavin Spencer

Trumpets:

Burt Collins, Joe Shepley, Bob Millikan, Danny Cahn

Sax:

George Young

Trombone:

Alan Raph

Woodwinds:

Les Scott, Leon Cohen, Phil Bodner

Strings:

Richard Bock, Fred Buldrini, Peter Dimitriades, Harold Kohon,
Jesse Levy, Carmel Malin, Joe Malin, Richard Maximoff,
Gene Orloff and Emanuel Vardi

Synthesizer:

Ken Bichel

Sound Effects:

Roy Carch

Contractor:

Arthur Kaplan

Recorded and Mixed at Quadrasonic, New York City
Cast
Bob McGrath as Bob
The Kids: Richard Bassin, Robyn Finn, Jaime Roberts, Dana Sokoloff and Damon Wilson
Background Vocals: Carl Maults-By, Gordon Grody, Priscilla Baskerville and Syndi Jordan
See also
External links
Community content is available under
CC-BY-SA
unless otherwise noted.