(14 intermediate revisions by one other user not shown)
Line 5:
Line 5:
 

In 2006, she interviewed [[Kevin Clash]] and [[Elmo]] on her show.

 

In 2006, she interviewed [[Kevin Clash]] and [[Elmo]] on her show.

 
 
−

Her book, "In the Kitchen with Rosie: Oprah's Favorite Recipes" was parodied by [[Miss Piggy]] with her own cookbook entitled "[[In the Kitchen with Miss Piggy]]".

+

Her book, "In the Kitchen with Rosie: Oprah's Favorite Recipes" was parodied by [[Miss Piggy]] with her own cookbook entitled "[[In the Kitchen with Miss Piggy]]".

 
 
−

She was also spoofed with the [[:Category:Unseen Characters|unseen character]] [[Oprah Grouchy]] on ''[[Sesame Street]]''. In [[season 40]], she voiced a cartoon letter [[O]] in a parody of her program.

+

She was spoofed with the [[:Category:Unseen Characters|unseen character]] [[Oprah Grouchy]] [[ ]] of .

 
+
 
+

She also voiced Eudora in [[The Walt Disney Company|Disney]]'s 2009 film ''The Princess and the Frog''.

 
+
 
+

Her 2016 program ''First Lady [[Michelle Obama]] Says Farewell to the White House: An Oprah Winfrey Special'' included clips of the First Lady with Grover on ''[[Sesame Street]]'' and slow dancing with [[Big Bird]] on ''[[Billy on the Street]]''.

 
 
 

==External links==

 

==External links==

Line 14:
Line 18:
 
 
 

{{wikipedia}}

 

{{wikipedia}}

 
+

__NOWYSIWYG__

⚫
 
 
+

{{DEFAULTSORT:Winfrey, Oprah}}

 
⚫
 
+

[[Category:Sesame Street Guest Stars]]

 
+

[[Category:Animated Voice Actors]]
---
Latest revision as of 22:18, 22 September 2018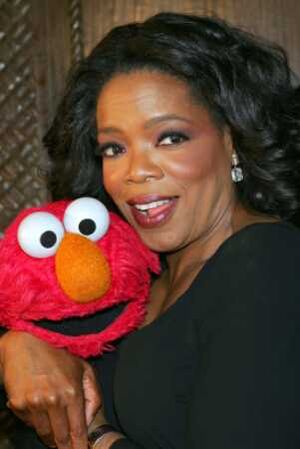 Oprah Winfrey (b. 1954) is the host of The Oprah Winfrey Show and, according to Forbes magazine, the richest African-American in the world.
In 2006, she interviewed Kevin Clash and Elmo on her show.
Her book, "In the Kitchen with Rosie: Oprah's Favorite Recipes" was parodied by Miss Piggy with her own cookbook entitled "In the Kitchen with Miss Piggy". In Sesame Street Season 41 in 2010, she voiced a cartoon letter O in a parody of her program. (YouTube)
She was spoofed with the unseen character Oprah Grouchy in a 1993 episode of Sesame Street.
She also voiced Eudora in Disney's 2009 film The Princess and the Frog.
Her 2016 program First Lady Michelle Obama Says Farewell to the White House: An Oprah Winfrey Special included clips of the First Lady with Grover on Sesame Street and slow dancing with Big Bird on Billy on the Street.
External links
Community content is available under
CC-BY-SA
unless otherwise noted.