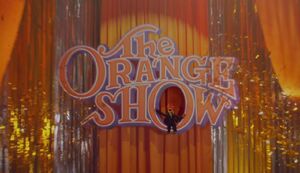 Orange is a telecommunications company based in Europe that offers Internet and other digital services.
The Muppets appeared in a pre-film advertisement for the company produced exclusively for UK cinemas called "The Muppets Gold Spot". The ad launched in cinemas nationwide on November 4th, 2011.
The segment features the cast of The Muppet Show (in a promotional sketch for The Muppets), where Orange (a UK cell phone company) has taken over the show, dubbing it "The Orange Show," building to a musical climax, and a reminder to switch off all mobile phones before the screening with the tagline "Don't let a mobile phone ruin your movie."
It was produced by creative agency Fallon, with DisneyMedia+ Solutions. Kirk Thatcher directed the spot.
Kermit the Frog was quoted in the press release:
"

Working with the Muppets, I'm used to things getting completely out of control and crazy. But thanks to the folks at Orange, I think we took out of control and crazy to a new level. It was a lot of fun, but I really hope they stick to their day job running a mobile network.

"
Video
Cast
Afghan Hound, Animal, Beaker, Beauregard, Behemoth, Big Mean Carl, Blustering Bellowpane Monster, Bubba the Rat, Cacti, Chickens, Dr. Bunsen Honeydew, Dr. Julius Strangepork, Dr. Teeth, Fish, Flowers, Floyd Pepper, Fozzie Bear, Frackles, Gonzo, Janice, Kermit the Frog, Lew Zealand, Link Hogthrob, Mahna Mahna, Marvin Suggs, Miss Piggy, Mo Frackle, The Newsman, Nigel, Penguins, Pepe the King Prawn, Pokey, Rats, Rizzo the Rat, Rowlf the Dog, Sam the Eagle, Scooter, Sheep, The Early Bird, The Snowths, The Swedish Chef, Sweetums, Wayne and Wanda, Yolanda Rat, Zoot
Connections
Previous stars of Orange Gold Spot campaigns include Spike Lee, Juliette Lewis, The A-Team and Jack Black.
See also
External links