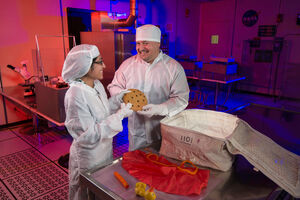 Exploration Flight Test 1 was the first test flight of NASA's Orion Multi-Purpose Crew Vehicle. It launched on December 5, 2014 from Cape Canaveral, Florida and spent approximately 4 hours in space.
The flight contained no human crew, but carried cargo in the form of several items from Sesame Street: a cookie from Cookie Monster, Ernie's Rubber Duckie, Super Grover's cape, and Oscar the Grouch's pet worm Slimey. Following Slimey's 1998 story arc in which he and a crew of worms from WASA went into space, the Orion test flight marked the first time a Muppet actually went into space (although Muppet voices had previously been heard in space for two Pigs in Space sketches recorded exclusively for Space Shuttle Columbia's STS-2 mission in 1981).
The items flew "some 3,600 miles above Earth and [would] come back to take prized spots on the Sesame Street set where millions of children will watch." NASA blog editor Steven Siceloff continued:
The event was covered in social media by various accounts held by Sesame Workshop and NASA, and the items ultimately returned to their owners by astronaut Ricky Arnold on July 9, 2015.
Other items carried by Orion during the flight include a Captain Kirk action figure provided by William Shatner, an Iron Man coin, signed Back to the Future photos and DeLorean model, and a T. rex fossil on loan from the Denver Museum of Nature and Science.[2]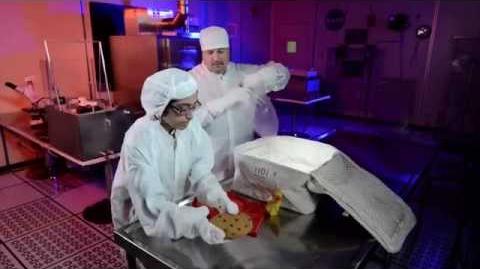 Social media
During the build-up to Orion's launch, NASA announced a media campaign advertise the event: "Over the next ten days, NASA and Sesame Street will share comic strips, videos and graphics of some of their most popular Muppet characters interacting with Orion concepts to help build awareness of human spaceflight, Orion's flight test and NASA's Journey to Mars."[3]
Sources