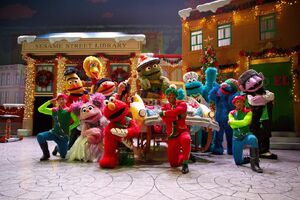 Oscar's Grouchmas is a Christmas stage show performed at the Universal Studios Singapore theme park for the 2017 holiday season. The show played at the Pantages Hollywood Theater.
In the show, Oscar the Grouch wishes for a grouchy Christmas, tearing up decorations and knocking over presents. His wish appears to be granted when a series of accidents break Abby Cadabby's wand, Big Bird's portrait and Bert's drum. Then a pack of elves from the International Bureau of Nice appear, and share the bad news that Santa Claus has lost the "Nice" list, which means no presents for the deserving kids. Everybody around him is grouchy, and it's up to Oscar to save Christmas.
Songs
"Here Comes Santa Grouch"