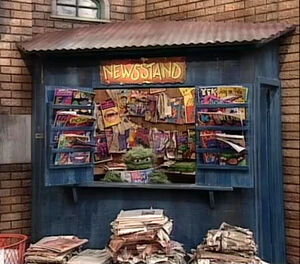 A newsstand owned and operated by Oscar the Grouch was introduced to Sesame Street in the 25th season, as a part of the Around the Corner expansion. The stand was next to the Subway Station. The newsstand was originally shown without a consistent owner, and episode 3242 introduces the development that Oscar buys the newsstand to spread his Grouchiness around the street. During Season 29, the stand was used for the WASA control center. Along with the rest of the Around the Corner area, the newsstand was dropped after season 29.
Additionally, Hooper's Store originally functioned as a newsstand, with a magazine and newspaper rack just outside the window.
In Season 46, a newsstand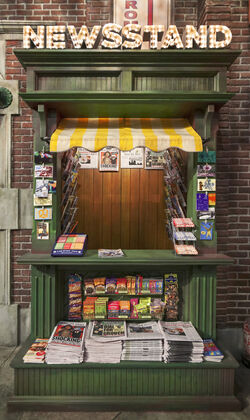 was added back to the street, between the Subway entrance and the laundromat, and maintained by the Two-Headed Monster.