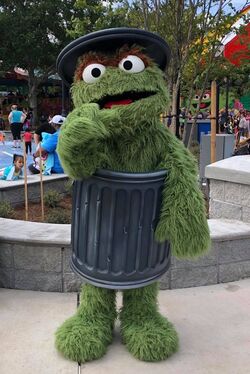 Walk-around version of Oscar the Grouch created for public appearances, including Sesame Place and Sesame Street Live.
Despite being one of Sesame Street's major characters, Oscar would not get a walk-around of his own until 2012. Prior to 2012, Oscar was portrayed as a puppet whose appearances were mostly limited to Sesame Street Live and Sesame Place. At the behest of Sesame Workshop, Oscar became a walk-around character, allowing him to fulfill his abilities as well as interact with parkgoers (a move similar to Disney changing the Mad Hatter at their theme parks from a costumed character to a live actor, for the same purpose).
The standard design consists of Oscar wearing his trash can around his waist with his legs sticking out from the bottom of the can. Just as he does in many illustrated appearances and merchandise, he wears the lid on his head like a hat.
Outside of Sesame Place, Oscar also appears at SeaWorld parks (since 2014), Busch Gardens Tampa (since 2016), Beaches Resorts (since 2012), Universal Studios Singapore, Selva Mágica, and La Feria de Chapultepec (since 2019).
Oscar is maintained by VStar Entertainment (née VEE Corporation) and Animax Designs.
Seasonal/special attire
Other
Pre-2012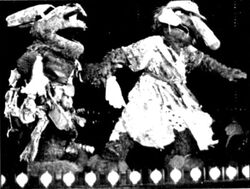 Oscar previously appeared in walk-around form in the Sesame Street Live show Silly Dancing, when he emerges from his trash can to sing "Everything in the Wrong Place Ball" with Grundgetta. However, this was only a one-shot appearance.
See also