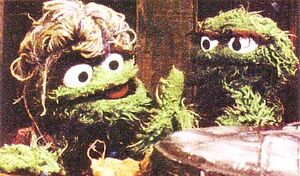 Oscarina Grouch is Oscar's mother. She has visited Sesame Street various times over the years, usually to make sure that her son is still grouchy and hasn't been turned nice by the other residents.
Her first name was mentioned on Sesame Street in Episode 0072 when Gordon scoffs at it on a letter that Oscar has asked him to drop in the mailbox, "Well, of course, she's my mother!" A caption on her photo in the November 1995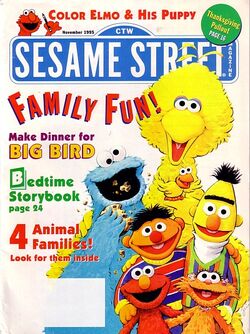 issue of Sesame Street Magazine identifies her simply as Mrs. Grouch.
Oscar remembers his mother's gift of a tattered sneaker (given to him on the day he was born) fondly enough to sing about it in his signature song, "I Love Trash". He also kept her recipe for pepper-butterscotch-sardine snaps in Episode 0260 and fondly remembers the pepper sandwiches she used to make for he and his siblings when they were little.
According to Sesame Street Stays Up Late, Mrs. Grouch lives in Illinois. According to a talk show appearance on Canadian radio, Oscar's father is from St. David's Ridge, New Brunswick and his mother grew up in Nova Scotia (in reference to Caroll Spinney's parents).
A running gag between Mrs. Grouch and Oscar seen in Episode 3054 is that whenever Oscar would say "please," she would wash his mouth out with an ice cream cone, a Grouch reversal of a traditional punishment where one's mouth would be washed with soap when they say a bad word.
Martin P. Robinson performed Mrs. Grouch for her appearances in the 1990s, though in Episode 4237 (2010), she was performed by Leslie Carrara-Rudolph.
Appearances
Illustrated appearances
See also