PERFORMER
various
DEBUT
1979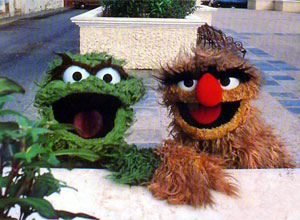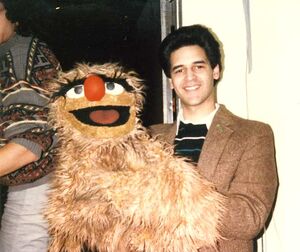 Osvaldo, el Gruñón (Oswald the Grouch) is a Grouch who lives in Puerto Rico. He first appeared in the Season 11 premiere of Sesame Street, voiced by Norberto Kerner and puppeteered by Richard Hunt.[1][2]
After the week of shows in Puerto Rico, he re-appeared in Episode 1325, where he visited Oscar in New York, and then in Episode 1443, where he becomes an air steward for a Grouch airline. His other appearances include Episode 1324, 1467, 1473, 1486, 1491, 1527, 1529, 1539, 1550, 1557, 1661 and 1662.
In some episodes (including Episode 1682), it was established that Osvaldo had a pet dog named Peligro.
In later episodes of the 1980s, Gabriel Velez took over the role of the character, including Episode 2003.[3] In his latest appearance in Episode 3258, he was performed by Peter Linz.[4]
The Osvaldo puppet has the ability to move his eyes, and later was used as a background Grouch, sans nose (such as in Follow That Bird) as well as other Grouch characters (including Worby, Dr. Kvetch, and Spill O'Reilly). The puppet also appeared briefly in A Muppet Family Christmas.
Notes
In some books and scripts featuring the character, his name is spelled as "Oswaldo" instead.
Book appearances
Sources
See also
Community content is available under
CC-BY-SA
unless otherwise noted.