Oswald Morris (1915-2014) was a pioneering, Academy Award-winning British film cinematographer, who worked on many high-profile movies during his long career. He worked particularly closely with director John Huston in an eight-film collaboration. In the early 1980s, Morris was persuaded by Jim Henson to leave retirement to shoot two final films: The Great Muppet Caper and The Dark Crystal.
Background
Morris began his career as a teenager, working as a gofer and clapper boy at Wembley Studios beginning in 1932. He was later promoted to assistant cameraman, and worked on a series of "quickie" films to comply with Britain's Cinematograph Act. Following service as an RAF bomber pilot during World War II, Morris returned to film, serving as camera operator on David Lean's 1948 version of Oliver Twist. He soon rose in his profession, becoming the cinematographer for John Huston on Beat the Devil (with Humphrey Bogart and Robert Morley) and the 1956 version of Moby Dick, for which he also developed a unique color process.
His subsequent films ranged from A Farewell to Arms and The Guns of Navarone to Stanley Kubrick's Lolita (with Peter Sellers), The Spy Who Came in From the Cold, and the musical Oliver!, for which he received his first Academy Award nomination in 1969. In 1972, he won an Oscar for Fiddler on the Roof and would receive one more nomination, in 1979, for The Wiz.
Henson Work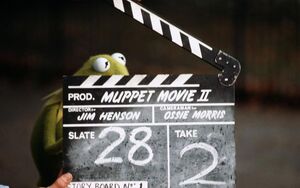 Although Morris officially retired in 1979, following the financial failure of The Wiz, he was persuaded to return to Elstree Studios to shoot The Great Muppet Caper and The Dark Crystal back to back. Morris described the decision in his 2006 memoir Huston, We Have a Problem:
During the opening of The Great Muppet Caper, when Morris' credit appears, noting his membership in the British Society of Cinematographers, Fozzie asks, "Kermit, what does B.S.C. mean?" The film was Morris' first with puppets, and he found that "mixing 3-foot-high puppets and humans proved a fascinating and taxing challenge." In his own roster of glamorous film stars, included at the end of the book, the cinematographer makes particular mention of "the greatest of them all ... Miss Piggy!"
For The Dark Crystal, Morris played a more discernible role in shaping the look of the film:
In 1998, Morris was awarded the Order of the British Empire for "services to cinematography and the film industry." He died in 2014 at the age of 98.
Sources
Morris, Oswald. "Chapter Sixteen- Piggy in the Middle: The Jim Henson Legacy." Huston, We Have a Problem. Lanham: Scarecrow Press, 2006. p. 251-257.
External links