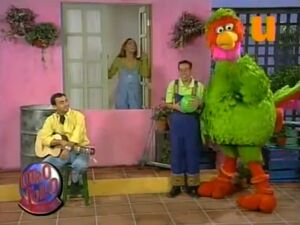 Otro Rollo was a Mexican variety show that ran from 1995 to 2007. Hosted by comedian Adal Ramones, the show featured comedic monologues, comedy sketches, celebrity interviews and musical performances.
Abelardo Montoya, a character from Plaza Sésamo, made an appearance on the show in a spoof of his show. In a later, mid-2000's episode, Abelardo, Pancho and Lola all made a guest appearance.
Muppet Mentions
The show had parodied the Sesame Street co-production, Plaza Sésamo, with another sketch, "Plaza Gandalla." The sketch featured Ramones as the host of a Sésamo-esque show, with many adult ideas and lessons. A sock puppet named Tufo appears, whose puppeteer Adal briefly reveals.
Connections
The show featured guest appearances and performances from celebrities who have worked with the Muppets, including: