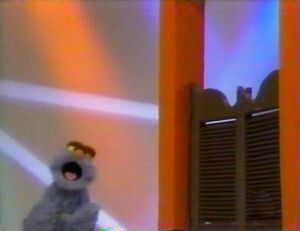 "Over, Under, Around and Through" is a Sesame Street song performed by Grover as he demonstrates the differences between the prepositions in the song's title. While he's at it, he also explains the difference between near and far.
The song premiered on the second season of Sesame Street, in a sketch where Grover goes over, under, around, and through a set of swinging saloon doors. By the end of the song he is exhausted from his efforts.
The song was rerecorded for The Official Sesame Street 2 Book-and-Record Album. In the album version, Grover encourages the listener to look at the record going around, while he jumps over his cute, little hobby horse, crawls under his bed, and walks through his door. This recording is used on most subsequent albums, except for the soundtrack release of A Celebration of Me Grover, which uses the broadcast version.
Pancho Contreras performed this song in a Plaza Sésamo insert, ending with the same results.
Releases
Audio (album version of original version)
Audio (broadcast version)
Video
Special
Publications
See also