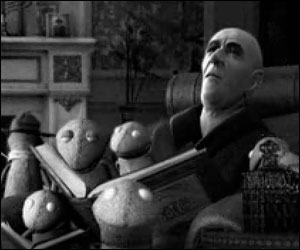 Over Time is a French student film created in computer generated animation and presented in black and white. The plot follows a group of puppet creatures loosely reminiscent of Kermit (with pupil-less ping pong-style eyes) as they reverse the roles of puppet and puppeteer, manipulating their deceased creator. There is no dialogue and the film runs just over 5 minutes.
It was written, directed, animated and edited by Oury Atlan, Thibaut Berland and Damien Ferrie. Music features "Inconsolable" by the Silberman Orchestra and "shien vi di l'vone" and "eli eli" by Ornadel and the Starlight Symphony.
The short first appeared on joeytomatoes.com in 2005. The film was released on DVD from Siggraph Video Review the same year. It is sometimes referred to as "Muppets Overtime."