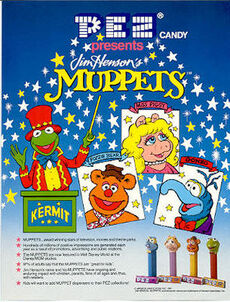 PEZ Candy Inc. is a manufacturer of candies and the dispensers made to hold them. Originally an Austrian company, the name PEZ was derived from the German word for peppermint, Pfefferminz, the first PEZ flavor.
PEZ dispensers as they are known today, first became popularized in 1955, when the company began including the heads of popular characters, such as Santa Claus and Mickey Mouse at the top of their candy dispensers.
Now considered a collector's item for many, dozens of franchises have been adapted for the PEZ dispenser, Sesame Street and the Muppets included.
Muppet PEZ dispensers
The original set of Muppet PEZ dispensers was released in 1991.
Twenty years later, a converted Kermit PEZ dispenser and a converted Gonzo PEZ dispenser appear as Walter and Gary's toothbrushes in The Muppets.
Sesame Street PEZ dispensers
The set of Sesame Street PEZ dispensers was released in March 2004, and retired in 2006.
Giant PEZ dispensers
Giant Musical PEZ dispensers
Crystal PEZ dispensers
The Muppets PEZ dispensers
A new set of Muppet PEZ dispensers was released in January 2012, following the release of The Muppets.[1][2] The new sculpts include Kermit the Frog, Miss Piggy and (for the first time) Animal. Later, a newer version of Fozzie Bear was made.
International promotions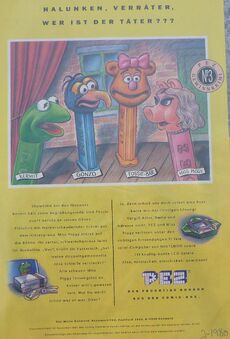 A series of several "PEZ Crime Competition" ads were created for the German market to run in comic books and other magazines in the early 1990s.
Eleven lucky winners would receive an Nintendo Entertainment System, 111 participants would receive a small LCD game.
Sources
↑ Jordan, Chris. "July 2011 Pez Collectors Store Newsletter", PezCollectors.com. July 2011.
External links
Community content is available under
CC-BY-SA
unless otherwise noted.