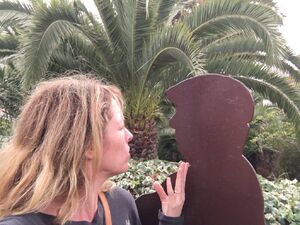 Pablo Neruda (1904-1973) was a Chilean poet and politician who won the Nobel Prize for Literature in 1971. Neruda began composing poetry at the age of 10 and wrote in a variety of styles, including surrealism, historical epics, political manifestos, and passionate love poems.
He served several diplomatic positions throughout his lifetime, including one term as a Senator for the Chilean Communist Party which ultimately led to his exile from the country. His poetry has been translated into all the major languages of the world, and has been used as lyrics for dozens of songs.
In popular culture, Neruda has been quoted on such television shows as Orange is the New Black, Dawson's Creek, Orphan Black, The Simpsons, and How I Met Your Mother (on which Kristin Newman served as a writer and executive producer).
References