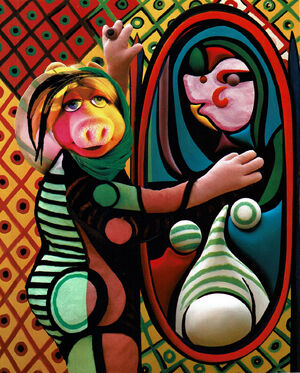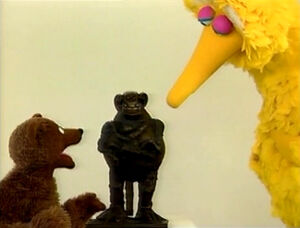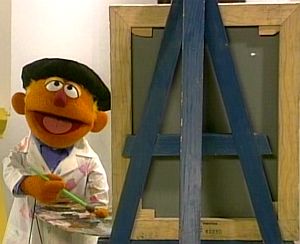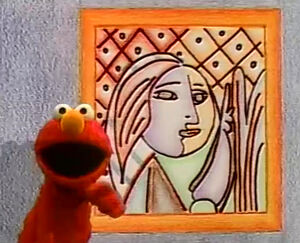 Pablo Picasso (1881-1973) was a Spanish painter. Commonly known simply as Picasso, he is one of the most recognized figures in 20th-century art. He is best known for co-founding the Cubist movement and for the wide variety of styles embodied in his work. Among his most famous works are the proto-Cubist Les Demoiselles d'Avignon (1907) and Guernica (1937), his portrayal of the German bombing of Guernica during the Spanish Civil War.
References
"

Attributed to Pablo Picasso. Deck Enamel on denim. 19?2. Purchased from Mr. Chico Picasso, the artist's brother, from the collection in the restaurant, "La Fonda del Food." Signed "Pablo Picasso." Also signed "Joe DiMaggio." Inscribed by the artist "From Pablo to my little gazpacho, Miss Piggy, olé, baby!"

"
A number of animated Sesame Street inserts use Picasso's works as the subject, including:

Bust Of A Woman With A Hat is slowly revealed to the audience in a black and white version, before eventually gaining its colors. (First: Episode 3320)
Portrait of Marie-Thérèse is altered with a child sitting on her lap. (First: Episode 3318)
Three Musicians is used, where the instrumentalists learn to cooperate to play music. (First: Episode 3460)
Another Sesame Street cartoon features two characters with Picasso-esque designs commenting on a painting of a normal, human girl. (First: Episode 3442)
As a reference within a reference, Joe Mathieu spoofed Norman Rockwell's "Triple Self Portrait" with Grover taking the place of the famed painter. And taking the place of the Picasso self-portrait Rockwell included on the easel, is Bert in place of Picasso.
A spoof of Girl Before a Mirror featuring Kermit the Forg is featured in the Museum of Modern Cookie in The Cookie Thief. It is said to be painted by Pablo PiCookie.
Community content is available under
CC-BY-SA
unless otherwise noted.