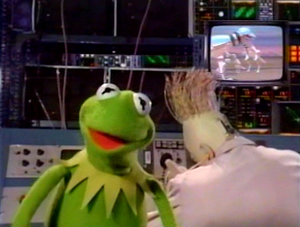 Pacific Data Images, now known as PDI/DreamWorks, is the computer animation production company behind such films as the Shrek franchise.
Pacific Data Images was responsible for animating the real-time computer graphics puppet character Waldo C. Graphic on The Jim Henson Hour and in Muppet*Vision 3D.
In the first episode of The Jim Henson Hour, PDI's short film "Chromosaurus" can be seen on one of the background monitors in Muppet Central.
See also