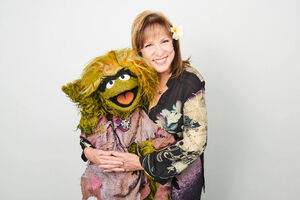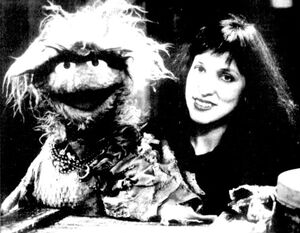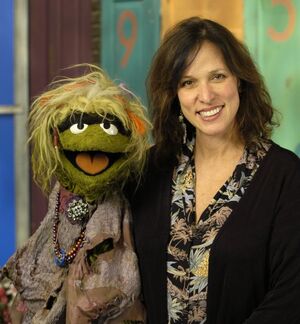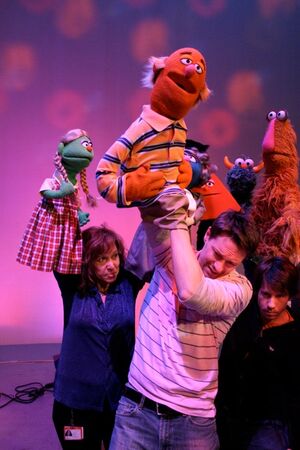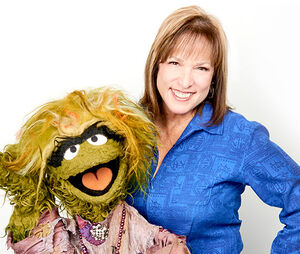 Pam Arciero (b. May 8, c.1954)[1][2] is a puppeteer and voice-over artist who is best known in the Muppet world for her role on Sesame Street as Oscar the Grouch's girlfriend, Grundgetta.
Before joining the show, she attended a large open call for puppeteers that led to the recasting of Mr. Snuffleupagus, where she first worked with Snuffy hopeful Martin P. Robinson. Though she didn't get the part, she subsequently auditioned and won the role of Grundgetta after Brian Muehl's departure.[3][4]
Arciero earned her M.A. in Puppetry from The University of Connecticut and has performed characters for numerous shows outside of the Muppet sphere, including The Great Space Coaster, Allegra's Window (as Sonata and Lindi), Between the Lions (replacing Kathryn Mullen as Leona), Eureeka's Castle, and Lomax, the Hound of Music (as Louise).
She has also been active in the world of theater, including a stint at the Orpheum Theater with Little Shop of Horrors, and serving as director for several live shows at Sesame Place and El Capitan Theater in Los Angeles.
Arciero has served as Artistic Director for the prestigious O'Neill Puppetry Conference since 2002 and continues to participate in puppetry workshops and other events across the country.
Muppeteer credits
Sesame Street: Grundgetta (1985-present), Crystal, Sally Wilson, Little Lizzy Hammertoe, Rosa, Katie, Vanessa, Crystal (The Squirrelles), one of the Five Ws, Moo Wave cow (puppetry only), Telly Monster (assistant), various Anything Muppets
Follow That Bird: Grundgetta
Sesame Street: 20 and Still Counting: Telly Monster (assistant)
The Muppets Celebrate Jim Henson: Grundgetta
The Wubbulous World of Dr. Seuss: Little Cat N (Episode 202), Lulu's Dog (Episode 216)
Elmo Saves Christmas: Grundgetta
Sesame Street: A Is for Asthma: Grundgetta
Last Week Tonight with John Oliver: Penguin
Sesame Street's 50th Anniversary Celebration: Goldilocks, Grundgetta
Sources
See also
External links