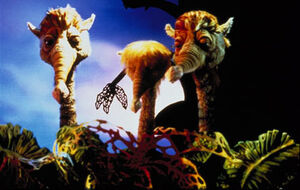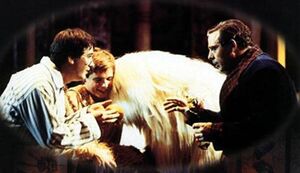 Pan was an Australian stage production featuring both creatures and set design by the Jim Henson's Creature Shop. Opening on May 14, 2000 at the Capitol Theatre in Sydney, Australia, the show was directed by John Banas, with Book & Lyrics by Frank Guantlett, music by Michael Maurice Harvey, Gerard Fitzgerald, Mark Rivett, and Katrina Retallick-Jewel, and based on J. M. Barrie's Peter Pan.
The stage production was the second foray of the Creature Shop in live theatrical productions, following the London production of Doctor Dolittle.
Plagued with backstage difficulties, Pan was one of the most ambitious theatre productions in Australia, with a budget said to have been between six to fourteen million dollars. An enormously technical show, 20,000 man-hours were spent by the Creature Shop creating the puppets for the show, which totaled 24 creatures, including a family of eight Fribbits, Sqassums, a Snurtle, a Grocer Bird, and a twenty-two foot crocodile, one of three crocodiles created for the show.
Producers asked the Creature Shop to design the sets to achieve "a fully cohesive look" to the show. Ben Dickens, great-great-great-nephew to Charles Dickens, was hired as the in-house designer to aid with his expertise in live theatre.
Of the three versions of the crocodile, one was a single head mounted on a vehicle with moving illuminated eyes, allowing the puppet to watch the pirates while submerged in water, which was in reality smoke. The second crocodile was also a head, but built to burst from the water to capture Captain Hook in its jaws. The third and most complex of the crocs was a twenty-two foot long full walking version. Operated by two people from the inside, and a third offstage, the puppet featured radio controled facial movements, and as it was built on a three-wheeled vehicle, giving it the illusion of walking.
Tinkerbell was the creation of puppet captain Michelin Deisti and his crew, known as the "Tink tech," and she was a light source that was animated by the Henson puppeteers.
The majority of the creatures were voiced by the creature puppeteers themselves, rather then to a pre-recorded audio track.
A creature hospital was set up at the theatre for maintenance of the puppets, including all mechanical parts as well as fur, feathers, and paint.
Sources
Community content is available under
CC-BY-SA
unless otherwise noted.