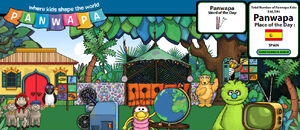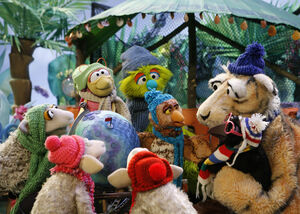 Panwapa is a worldwide video initiative produced by Sesame Workshop. The 12-episode video debuted on October 10, 2007, and released online via iTunes and Panwapa.com. The program began airing on PBS Kids Sprout in January 2008, and was made available by them through video-on-demand services.
The production stars "the Muppets of Panwapa," a new group of characters (built by Jim Henson's Muppet Workshop in New York, along with a few recycled Muppets from earlier productions) who live on a giant floating island known as Panwapa Island. The program aims to "foster the foundation for global citizenship and community activism in young children, ages 4 to 7."
This show's working title was Sesame World Wide Kids.[1] The project is a collaboration between Sesame Workshop and the Merrill Lynch Foundation, which grew from a desire to create a global awareness curriculum for children ages 4-7. It has 5 educational goals:
Increase children's awareness of the wider world around them
Encourage children to appreciate similarities and value differences between themselves and others
Instill a sense of responsibility for one's own actions
Encourage active community participation
Increase understanding of and response to economic disparity
Characters
Credits
Cast
Panwapa.com
In addition to the videos an interactive website, panwapa.com, was created. Children who visited the site could create a "Panwapa Kid" and build a home for the kid. They could interact with the Panwapa characters and visit Panwapa Kids from other countries on the floating island, as well as exploring Panwapa itself.
The content was created simultaneously in 5 languages: English, Spanish, Chinese, Japanese, and Arabic. In response to feedback from educators, Sesame Workshop has also created a full set of curriculum for teachers to use Panwapa in the classroom.
Sources
External links
Community content is available under
CC-BY-SA
unless otherwise noted.