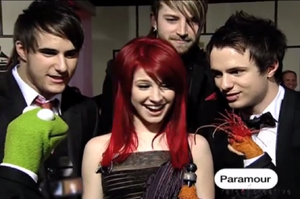 Paramore is an American rock band from Franklin, Tennessee, formed in 2004. The band currently consists of lead vocalist Hayley Williams, bassist Jeremy Davis, and guitarist Taylor York. The group's 2013 self-titled album debuted at No. 1 on the Billboard charts in the United States and was also the No. 1 album in the United Kingdom, Ireland, Australia, New Zealand, Brazil, Argentina and Mexico.
Paramore was interviewed by Kermit the Frog and Pepe the King Prawn on the red carpet of the 50th annual Grammy Awards; Kermit commented that Williams, with her red hair, must get her hair done at the same place as Pepe. An excerpt of the interview was included in a video posted on Muppets.com in 2008.
Williams sang "Rainbow Connection" with Weezer for The Green Album.