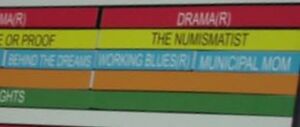 Parks and Recreation is a single-camera sitcom that aired on NBC from 2009-2015, revolving around the lives of the employees of the Pawnee, Indiana Parks and Recreation Department.
References
In The Muppets, the schedule for NBC shown in the CDE's office in The Muppets spoofs the show as Municipal Mom, in the Thursday night timeslot held by the show in the summer of 2010.
Muppet Mentions
In the season 6 episode, "London," Jean-Ralphio compares his father's lawyer to Beaker from the Muppets and makes the meep sound that Beaker speaks with.
In the season 7 episode, "The Johnny Karate Super Awesome Musical Explosion Show," Andy Dwyer (Chris Pratt) accidentally lets a dangerous spider loose in the studio while hosting a children's show, which leads to the network airing an on-air disclaimer. When slowed down and gone through frame-by-frame, it can be seen that halfway through the disclaimer, Dwyer briefly hijacks the message, saying "I had a dumb meeting with our dumb lawyer who was yelling at me for something I don't even know what it was he's so funny when he yells he looks like Beaker from the Muppets..."
Connections
Community content is available under
CC-BY-SA
unless otherwise noted.