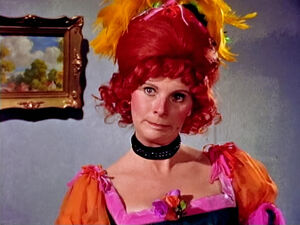 Pat Galloway (b. 1933) is an actress who played The Stepmother in Hey Cinderella!
Though born in England, Galloway spent much of her career in Canada, becoming a leading player of the Stratford Festival, performing in many Shakespeare plays. On television, she appeared in the CBC historical mini-series The National Dream: Building the Impossible Railway as prime minister's wife Agnes Macdonald, the only principal female role in the production.
Galloway's other credits include a 1985 TV version of The Pirates of Penzance, guest roles on Seaway and Starlost, and an appearance in the 1965 National Film Board of Canada short Instant French (with Rex Sevenoaks).
External links