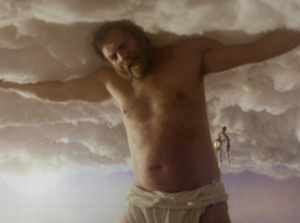 Pat Roach (1937-2004) was a British wrestler and actor who played Atlas in The StoryTeller: Greek Myths episode "Perseus and the Gorgon." Roach wrestled under the name "Bomber" but transitioned into acting in the 1970s, using his physique to play a variety of thugs and heavies.
The actor had the distinction of appearing in all three of the original Indiana Jones films, Raiders of the Lost Ark (dual roles as the mechanic and a sherpa), Indiana Jones and the Temple of Doom (as the chief guard), and Indiana Jones and the Last Crusade (as a Gestapo soldier). Roach played similar roles in the James Bond film Never Say Never Again, Conan the Destroyer, and Ron Howard's Willow. On television, he starred as bricklayer Bomber on the sitcom Auf Wiederschen, Pet.
External links
Community content is available under
CC-BY-SA
unless otherwise noted.