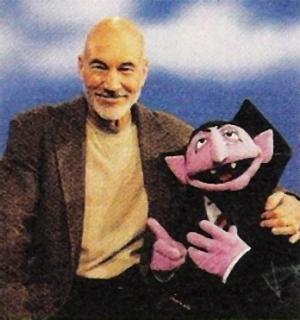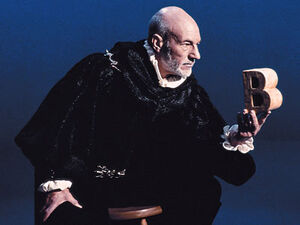 Sir Patrick Stewart, OBE (b. 1940) is an English Shakespearean actor best known for playing Captain Jean-Luc Picard on Star Trek: The Next Generation and Professor Xavier in the X-Men films. Stewart received the Order of the British Empire (OBE) in 2001 and was made a Knight Bachelor in 2010, the latter making him Sir Patrick.
Stewart has appeared on Sesame Street and performed a spoof of "Hamlet's Soliloquy", titled "B or not a B." (First: Episode 3508). Stewart referred to the sketch as one of "the two most distinguished bits of work that I've done in the US" (the other having been his guest voice stint on The Simpsons).[1] Other Sesame appearances include an insert with Count von Count where he says his famous "Make It So, Number One!" to get the numbers 0-9 lined up (and the 1 in between the 0 and 2 as should be), and singing "The Alphabet Song" in a celebrity montage.
Voicing Napoleon in the Creature Shop-effects film Animal Farm, Stewart's other voice credits include playing Avery Bullock for American Dad!, reprising Captain Jean-Luc Picard for an episode of Family Guy, the 2007 animated film TMNT, and Disney's feature films Chicken Little and Bambi II.
On Broadway, Stewart starred in his one man version of Charles Dickens' A Christmas Carol for four seasons, and has appeared in The Tempest, A Midsummer Night's Dream and Macbeth. Feature film credits include Mel Brooks' Robin Hood: Men in Tights and L.A. Story (with Steve Martin), and television credits include In Search of Dr. Seuss, Reading Rainbow, hosting Saturday Night Live and a guest spot on Frasier.
References
Sources
↑ YouTube - EW Takes a Look Back with The Muppets (2014-08-20)
External links
Community content is available under
CC-BY-SA
unless otherwise noted.