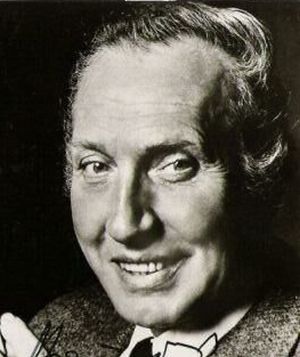 Paul Bürks (1916-1995) was a German voice actor who dubbed Dr. Julius Strangepork in the later seasons of Die Muppet Show (The Muppet Show), as well as guest star Liberace. He also dubbed Architect Doozer on Die Fraggles (Fraggle Rock) and Edgar Bergen and Charlie McCarthy in the German dub of The Muppet Movie.
Bürks began his acting career at the Municipal Theater in Cologne, and performed at the Residenztheater München for 20 years, where he worked with Ingmar Bergman. He also appeared in Bergman's 1977 film The Serpent's Egg, playing a cabaret comedian. Bürks was active on German radio from 1947 onward, including 40s and 50s radio versions of classics Romeo and Juliet (Benvolio), Shaw's Major Barbara, Faust (in two different versions), and multiple episodes of Neues aus Schilda (1953-1955) and Gordon Grantley (1956-1959). On German television, he appeared on Father Brown, Derrick, and Der Alte.
In the dubbing field, Bürks was most often cast as Englishmen, Frenchmen or eccentrics, supplying the German voice of Geoffrey Keen as Sir Frederick Gray in three James Bond movies, George Gaynes in two Police Academy entries, David Warner in Star Trek 6: The Undiscovered Country, John Wood in Nicholas and Alexandra, John Standing in Zee and Co., and Peter Hughes in Jack the Ripper. He was most active in the 1960s and 70s, however, participating in the TV dubs of many classic films, including Hitchcock's The Lady Vanishes (dubbing Cecil Parker) and Notorious (as the butler), plus Eric Blore in the Laurel and Hardy feature Swiss Miss, Charlie Ruggles in Bringing Up Baby, and bit parts in Casablanca and Red River.
On television, he dubbed several supporting players on The Prisoner, John Franklyn-Robbins on I, Claudius, and Stephen Elliott on Falcon Crest. Animation credits include Sir Giles in the 1993 dub of Disney's The Reluctant Dragon and roles in the German animated features Die Konferenz der Tier and Das Kleine Gespenst.
External links
Community content is available under
CC-BY-SA
unless otherwise noted.