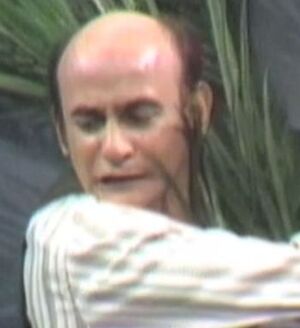 Paul B. Price (1933-2012), sometimes billed as Paul Price, was an actor and writer who spent a three year stint on Sesame Street playing Ralph, half of the Wally and Ralph comedy duo, from season 3 until season 5.
He performed in several Broadway plays, understudying and later replacing Paul Benedict in Terence McNally's Bad Habits and appeared off-Broadway in Room Service and Waiting for Godot (as Estragon). He originated the role of chubby chaser Claude in the 1975 Broadway comedy The Ritz, reprising it for the 1976 film version (where he makes passes at Jerry Stiller). Other films included The Hospital, Butch and Sundance: The Early Years, Johnny Dangerously (with Michael Keaton), So Fine (with Jack Warden), and Fly Away.
On television, Price was a regular on the 1977 sitcom Busting Loose (as Mr. Cabell, boss to star Adam Arkin) and made occasional appearances on the soap opera The Doctors (usually as the janitor, notably in a 1967 Christmas episode, where he plays Santa Claus). He made guest appearances on Get Smart, The Jeffersons, Sanford Arms, and The Wonder Years. As a scriptwriter, he penned episodes of Laverne & Shirley, Empty Nest (also guest starring three times), Makin' It, Ferris Bueller, and The Stockard Channing Show.
External links
Community content is available under
CC-BY-SA
unless otherwise noted.