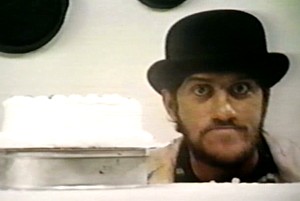 Paul Benedict (1938–2008) was a character actor who appeared on Sesame Street as the Mad Painter in a series of film sketches. A few years after his Sesame Street stint, Benedict was cast as eccentric British neighbor Harry Bentley on The Jeffersons, his best known role. His unique appearance, including a lantern jaw and bulbous nose, is the result of the condition known as acromegaly.
Other television roles include guest appearances on Seinfeld and A Different World. Film appearances include Billy Wilder's 1974 remake of The Front Page, The Addams Family, The Freshman (acclaimed for his portrayal of film-crazed Professor Fleeber), and three collaborations with Christopher Guest: This Is Spinal Tap, Waiting for Guffman, and A Mighty Wind. Benedict also guest starred on the non-Muppet series Between the Lions.
External links
Community content is available under
CC-BY-SA
unless otherwise noted.