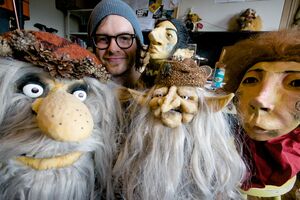 Paul Currie (b. 1974) is a puppeteer, circus/street performer and stand up comedian who plays lead Muppet Potto on Sesame Tree, the Sesame Street co-production in Northern Ireland. He also performs on the non-Muppet Jim Henson Company series Pajanimals, as an assistant puppeteer and in many recurring and guest roles (including Coach Whistler, Otis the Owl, Edwin the Magician, and Frank the beaver).
A native of Newtownabbey Co. Antrim Northern Ireland, Curriemakes and performs his own puppets and claims "Like kids from my generation I always wanted to be Jim Henson, but at age 10 I couldn't grow the beard. I would always be asked to perform muppet voices for other kids in school like Fozzie and Gonzo." He learned of the planned Northern Irish Sesame show from a festival encounter with Lisa Henson. As with the other Sesame Tree performers, he trained with Martin P. Robinson in the initial audition workshop and in preparation for the series.
Currie makes and performs puppets around Ireland, for various festivals and theatre shows. He recently designed and built a "spide" puppet for the BBC Northern Ireland show "Teethgrinder", the puppet is called DJ Scrunter, named by Paul after a generic nick name used by young Belfast street delinquents also known as "spides".
Currie first started performing puppets professionally in 1991 when he was asked by his Performing Arts tutor Paddy Scully (who had a Punch and Judy show) to stand in for him for a few summer gigs around Northern Ireland.
Then in 2001 Paul met Michael McNulty (Sesame Tree, Brothers Dimm) through a mutual friend. McNulty was also a Punch and Judy performer and the two started making foam puppets and writing very unusual and surreal puppet shows together under the name Kernal Trapps Puppets. They performed several times at the Queens Festival Belfast and the Belfast Childrens Festival to great critical success.
External links
Community content is available under
CC-BY-SA
unless otherwise noted.